[info_box title="" image="" animate=""] Advertise: Artikel berbayar / paid post[/info_box]
Aktivitas sehari-hari yang hiruk pikuk dengan kemacetan dan hingar bingar di kota besar, terkadang membuat kita suntuk akan aktivitas sehari-hari. Untuk menghilangkan rasa suntuk, rasanya menikmati restoran keluarga bernuansa alam di akhir pekan bisa menjadi solusi melepas kejenuhan
Mau cari tempat makan nuansa alam di kota besar seperti Jakarta? SULIT!
Tenang!, ternyata di daerah Tangerang tersebar restoran keluarga bernuansa alam loh! Disana kita bisa menikmati keindahan alam untuk melepas penat. Jadi kita tidak perlu jauh-jauh pergi keluar kota untuk menikmati nuansa alam.
Bukan hanya suasananya yang menenangkan, 5 daftar restoran keluarga bernuansa alam berikut ini sudah teruji loh kelezatan hidangannya. Yuk ikut jalan-jalan melepas penat di Tangerang
1. Wisata bukit pelayanan (Bupe) Resto Serpong, Banten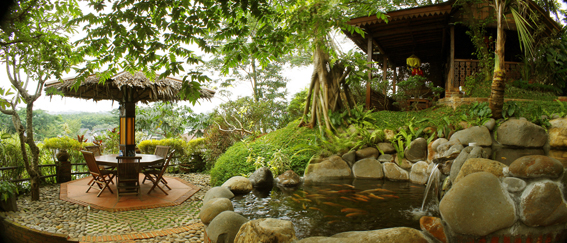 Restoran bernuansa pedesaan berikut ini namanya Bukit Pelayangan di cilenggang, tapi orang-orang lebih sering menyebutnya dengan BUPE. Disini kita bakal disuguhi pemandangan alam, seperti terasering atau berundak-undak, yang dihiasi dengan kolam-kolam ikan dan suara gemericik air yang membawa kita seperti berada di desa.
Di BUPE selain disediakan saung-saung, tempat wisata ini juga menyediakan Ruangan VIP yang dilengkapi dengan fasilitas Karaokenya. Daftar menu bupe menyajikan makanan khas sunda dengan konsep buffet yang disediakan restoran ini rasanya juga enak.
[toggles] [toggle title="How To Get There" color="Extra-Color-2″ id="b1″] Jl. Cilenggang I No.53, Cilenggang, Serpong, Kota Tangerang Selatan, Banten 15310 [/toggle] [/toggles]
2. Kampung Nirwana Serpong
Restoran yang juga menghadirkan atmosfer nuansa alam sebagai temanya, tepatnya terletak di daerah cisauk. Restoran yang luas ini memiliki sungai kecil yang mengelilingi seluruh kawasan restoran. Berbekal konsep rumah makan lesehan yang dikombinasikan pemandangan berupa taman dengan sungai, akan jadi pemandangan indah dari saung yang kamu tempati.
Keunikan lain yang ditawarkan Kampung Nirwana ini adalah Taman Edukasi untuk anak-anak seperti aktivitas kerajinan membuat keramik, mewarnai keramik,menghias topi caping, kolam tangkap ikan, kolam pemancingan ikan untuk anak, merangkai balon magic, sampai cara menanam padi.
[toggles] [toggle title="How To Get There" color="Extra-Color-2″ id="b1″] Jl. Raya KM.1 No.8, Cisauk, Tangerang, Banten 15341 [/toggle] [/toggles]
3. Gubug Makan Mang Engking Serpong
Mengusung konsep pedesaan yang menjadi ciri khas dari restoran yang satu ini,Mang Engking meyajikan pilihan menu seafood segar dengan berbagai varian yang bisa kita pilih. Dan pastikan untuk kamu yang memesan ikan bakar untuk langsung dibakar tanpa di goreng lebih dulu untuk menikmati rasa ikan bakar original.
Datang ke Mang Engking di The Breeze BSD City memang semakin nikmat bila kita menikmatinya bersama keluarga. Restoran yang berupa saung-saung yang berdri diatas kolam ikan yang sangat luas, semakin menambah keasyikan momen seru kamu bareng keluarga.
Dan buat anak kecil, Mang Engking menyediakan Playground untuk tempat bermain. Benar-benar memanjakan kamu dan keluarga. Betul?
[toggles] [toggle title="How To Get There" color="Extra-Color-2″ id="b1″] The Breeze BSD City, The Breeze BSD City Unit L67 A-C, Jalan Grand Boulevard BSD Raya, Sampora, Cisauk, Sampora, Cisauk, Tangerang, Banten 15345 [/toggle] [/toggles]
4. Kampoeng Aer Serpong Utara
Restoran keluarga bernuansa alam ini Menempati area seluas 4 hektar, dilengkapi dengan gazebo-gazebo besar yang dapat menampung hingga 100 orang yang dikelilingi rumput hijau.
Bayangkan Anda menikmati makanan di taman yang luas dan asri, dialiri oleh sungai Cisadane, semakin menambah keasrian Kampoeng Aer. Daftar Menu makanan kampoeng aer serpong yang disediakan mulai dari kuliner nusantara, continental hingga oriental dapat kamu nikmati disini. Restoran ini sangat tepat untuk reunian, ataupun mengadakan gathering karena variasi kuliner yang dimiliki.
[toggles] [toggle title="How To Get There" color="Extra-Color-2″ id="b1″] Jl. Skki, Pd. Jagung, Serpong, Kota Tangerang Selatan, Banten 15326 [/toggle] [/toggles]
5. Bambu Oju Neglasari
Apa Kamu ingin menikmati sensasi makan dipinggir sawah? Ga Perlu ke Jawa tengah ataupun ke ubud Bali. Kunjungi tempat yang satu ini. Lokasi rumah makan lesehan ini tidak jauh dari Bandara Soekarno Hatta, Tangerang.
Konsep makan di saung-saung yang ditawarkan Bambu Oju ini memberikan pilihan view yang menarik dari di pinggir kolam ataupun di pinggir sawah, yang dapat dipilih sesuai mood kamu. Menunya juga beragam dari masakan sunda, cina hingga western.
[toggles] [toggle title="How To Get There" color="Extra-Color-2″ id="b1″] Restoran yang terletak di dekat Bandara Soekarno Hatta. Jl. Marsekal Suryadarma No.82, Karang Sari, Neglasari, Kota Tangerang, Banten 15127 [/toggle] [/toggles]
Bagaimana?
Ternyata di daerah Tanggerang banyak restoran keluarga bernuansa alam yang sangat menarik untuk dicoba kan? Rasanya dengan pilihan tempat refreshing sebanyak ini di sekitar rumah, kita tidak akan pernah kehabisan pilhan tempat refreshing setiap akhir pekan di Tangerang. Ujung-ujungnya kita akan bebas stress karena rajin refreshing setiap akhir pekan. Assheeekkk…
Berminat mencari hunian di Tanggerang?